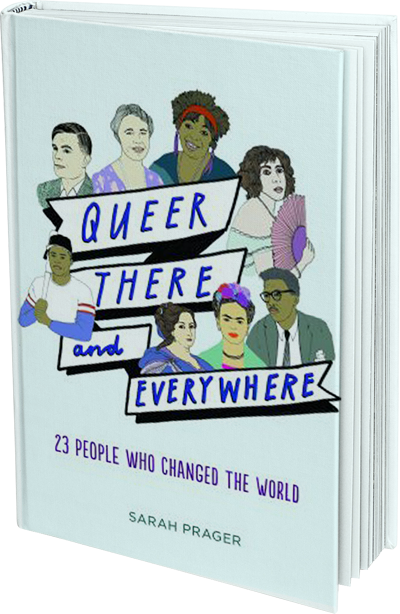 Sarah Prager's first book, Queer, There, and Everywhere: 23 People Who Changed the World came out from HarperCollins on May 23, 2017.
World history has been made by countless lesbian, gay, bisexual, transgender, and queer individuals—and you've never heard of many of them. Sarah delves deep into the lives of 23 people who fought, created, and loved on their own terms. From high-profile figures like Abraham Lincoln and Eleanor Roosevelt to the trailblazing gender-ambiguous Queen of Sweden and a bisexual blues singer who didn't make it into your history books, these astonishing true stories uncover a rich queer heritage that encompasses every culture, in every era. By turns hilarious and inspiring, the beautifully illustrated Queer, There, and Everywhere is for anyone who wants the real story of the queer rights movement.
"Queer, There, and Everywhere is so conversational, fast paced, and infused with pop culture sensibilities that it tricks you into forgetting it's a series of (incredibly timely) biographies. An absolute must-read."

"Sarah Prager does the impossible: she takes several millennia of complicated history and makes it accessible and fun for young readers. Prager [...] mixes light-hearted humor with impeccable scholarship so that the reader keeps turning the page to see 'what's next.'"

"A lively and informative introduction to queer history."

"One of my favorite books of the year."

"Written in a very conversational tone, this book is an important addition to library collections. Get this one up on your displays—there are plenty of teens who will be so glad to see a spotlight being shone on the important contributions of LGBTQIA+ people throughout history."

"Presented in a breezy, conversational tone that will engage teens and make them laugh.… Should be placed in the hands of every LGBTQ teen so they'll know that not only are they not alone, but they have a rich and diverse history–as well as the straight ones who should know that history too."

An amazing and amusing journey through history [...] with fascinating facts, cool illustrations, and a pop culture vibe, Queer, There, and Everywhere really does make learning fun.

"Accessible, irreverent, and meticulously researched, at times heartbreaking and just as often wildly funny, this stunningly diverse survey of queer histories is a nourishing and inspiring addition to our arsenal of queer possibilities. Should be required reading for all of us, queer or not."

"Written with a pop culture sensibility that will appeal to teen readers, the collection is a fascinating look at history through a different lens than what most history books provide. […] But don't let her breezy style make you doubt Prager's seriousness as a researcher. She has dug deep into the history vaults for biographical information, and includes quotes from letters and interviews, as evidenced in her extensive bibliography and notes section. [...] Hurray for Sarah Prager's own splendid contribution to queer history!"

"Well written, timely, and interesting; the profiles include a thoughtful, varied mix of queer historical figures .... Prager has captured moments from thousands of years of queer history-making in a captivating, illuminating read."

"The book's tone is chatty, vivid, and informative, and it reminds readers that the human spectrum of sexuality and gender is not a modern invention."

"Wow. It isn't easy to tell stories from across time and space of lives we would now call queer. Much less in an I-can't-put-this-book-down way. Sarah Prager has done it, showing us all how to 'live bravely.'"

"A rich exploration of gender identity and sexuality across time and nation, […] offer[ing] strong insight into the lives of individuals who broke barriers or simply lived life on their own terms."
The book is a:
Recipient of three starred reviews including a Kirkus Star
Official 2017 selection of the Junior Library Guild
#1 Amazon bestseller in the LGBT Issues category
"2017 Best Children's and Teen Books of the Year" by Shelf Awareness
2017 "Best Books for Teens" by New York Public Library
"Best Teen Nonfiction of 2017" by Chicago Public Library
Nominee for a 2017 New England Book Award
2017 Junior/Senior High Nonfiction Finalist for CYBIL Book Award
More Related to the Book
Did you already read the book and came here looking for the "Learn More" content mentioned at the end? Head on over here.
You can donate a copy of this book to an incarcerated LGBTQ person through this wishlist.
Find free online resources for learning queer history here.
Invite the author to give a talk, signing, Q&A, or workshop for your school or group.