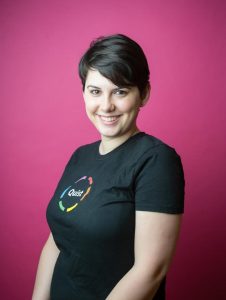 Sarah Prager is dedicated to raising awareness of LGBTQ history through writing, speaking, and her app, Quist. Being able to do that is what gets her up in the morning. That, and coffee. Lots of coffee.
Her first book, Queer, There, and Everywhere came out from HarperCollins Children's on May 23, 2017. The book tells the stories of 23 individuals from queer history for a young adult audience. It has received critical praise including three starred reviews.
Quist is a free app for iOS, Android, and Windows devices that brings LGBTQ and HIV/AIDS history to life. Founded by Sarah in 2013, Quist has earned a following of over 35,000 individuals from over 100 countries.
Sarah's writing has been published in The Advocate's website, The Social Media Monthly magazine, Huffington Post, QED: A Journal in GLBTQ Worldmaking, It Gets Better Project's blog, Gay Life newspaper, and various blogs.
She has been a guest on HuffPost Live, the Michelangelo Signorile Show on Sirius XM Progress Radio, and The List on ABC2. She has spoken at several colleges on LGBTQ history including UCONN, San Diego State University, Ohio University, as well as events at Twitter HQ in San Francisco to Microsoft's Times Square offices. She is the host of the YouTube series Quistory in your Neighborhood.
She lives with her wife, Liz, and their daughter, Eleanor, in Connecticut. Read her complete bio.